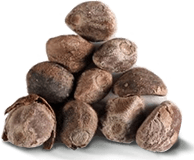 Keith
Monday 08 September, 2008
I took 5 seeds, 3 first and then 2 about 20 mins later, chewed them up good.
It took about an hour to take any effect, Once up there was a very strong drowsy stoney effect for an hour which was quite pleasant, then i tripped for about 3 hours...

The trip was more mental than visual although visuals were still noticeable.
About half way through i started to feel nausea kicking in...
Really wanted to puke but couldn't, I went to the bathroom about 15 mins after this started and took a no: 2 and everything was fine for the rest of the trip, that was the only uncomfortable part of the whole thing...

Overall they were pretty good, They had a relaxed stoney buzz through the whole duration of the trip compared to other psychedelics ive tried, I fell asleep for short periods about 3 times...

Overall id give the trip a 3/5.