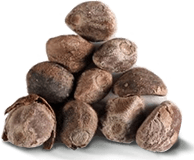 Emma
Sunday 05 August, 2007
Took 5 by chewing them for approx. 2 minutes. Was sick almost immediately, which is common and was to be expected as I'd eaten fairly recently before.
Started coming up after about 45 minutes; after two hours I was tripping wildly. Not heavily visual but extremely strong psychologically - I actually felt as if I was just on the cusp of another existence. I was too distracted to do anything but I was still thoroughly enjoying myself, experiencing waves of euphoria and laughing kicks. A few hours in I decided to take an additional two seeds, which with hindsight was a mistake as it got a bit too much and I got sick and somewhat freaked out. It soon passed, however, and 10 hours after taking the first pills the open- and closed-eye visuals as well as the psychedelic mental effects had calmed enough to enable me to sleep. Sleep was restful and hangover is mild.

My advice: if you're sensitive to psychedelic effects, don't underestimate these seeds! I've taken a variety of things and this was definitely up there among the strongest trips I've had.