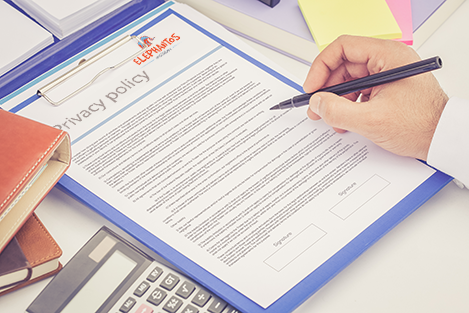 Privacy
We at Elephantos.com understand that our products can be privacy-sensitive. Our customers do not always appreciate it when the mailman, a roommate or another party can see the contents of their package. Unsolicited e-mails are also often undesirable. We do everything we can to guarantee your privacy.
Shipping
We always ship our products in a neutral package with name and address details of the recipient only. No mention of Elephantos or references concerning the content. Also, inside the packaging, you will not find any reference to Elephantos or any other company.
E-mails
You can expect a one-time confirmation e-mail after creating an account and every time you order a product. If you wish, you can subscribe to our monthly newsletter, so you never miss out on our fantastic offers. You can indicate this when creating an account. You can unsubscribe from the newsletter in your account at any time. If this does not work for whichever reason, ask us to do it for you by sending an email to info@elephantos.com.
We will never share your personal details with third parties.
Protection of your personal data
We keep the account details of our customers on our own web server. The security of our server is managed by webvalue and uniserver. Apart from the use of the latest security software, our server is continuously monitored by security software experts. The chance that it can be hacked is virtually non-existent.

Your Credit Card details

Credit card payments on Elephantos.com are handled by a payment processor. This is an application from the bank that we use for credit card payments. The credit card transaction takes place on the server of the bank in question. No employee of Elephantos.com can access your credit card number and/or other details that are shown on your card.
Elephantos Cookie Policy
If you visit the website of Elephantos we place so-called 'cookies'. These are small, temporary text files on your PC that we use to analyze how you use our website. Read on to learn which cookies we place, why and how this information is used to improve your experience.
Elephantos session (Functional)
This cookie is necessary to combine your visits to this website in one session. This allows us to keep track of items you place in your shopping cart and makes it possible to place an order.
Name: osCsid
Privacy: This cookie contains a unique, randomized, identifier that identifies your computer. No personal information is stored.
Duration: Directly after your session ends this cookie deletes itself
Elephantos age check (Functional)
Name: age-check
Privacy: No personal information is stored; only if you clicked on the "agree" button.
Duration: 1 year
Google Analytics (Analytical)
We use a service from Google called Google Analytics to help us understand how visitors interact with our website. This allows us to see which pages users visit, how long the website is visited and when people exit the website. We use this information to improve the website.
Name: _ga, _gat, _gid
Privacy: Google does not share anonymous data with third parties (see also: Google's Privacy Policy)
Duration: This cookie is deleted after a maximum of two years
We have entered into an agreement with Google regarding data sharing. We do not share unnecessary data with Google like personalized user data and even IP addresses are collected anonymously.
Live chat (Preferences)
Optionally you can chat with our customer service. We use a third-party called ProvideSupport.com (Provide Support, LLC) for the website's chat widget. By default, the following cookies are placed:
Name: __cfduid, vsid, lang
Privacy: These cookies contain no personal data. Provider Support can temporary collect and process data you share during a chat session but deletes this after the chat ends (see also: Provide Support's Privacy Policy )
Duration: These cookies are deleted after a maximum of one year
If you chat with us Provide Support acts as a "data processor". A transcript of the chat is temporarily saved on their servers for the duration of the chat. Optionally you can email a transcript to yourself. Immediately after the transcript is destroyed. The contents of offline messages sent through our chat widget and technical data like IP and hostname are stored on Provide Support servers for a very short period of time, solely for the purpose of dispatching this data to our customer service.
Twitter (Marketing)
This cookie is set by Twitter. This cookie allows you to share content from the website on your Twitter profile.
Name: personalization_id
Privacy: Twitter could use this data to personalize advertising (see also: Twitter's Privacy Policy)
Duration: This cookie is deleted after a maximum of two years
Removing and blocking cookies
You can delete the cookies our website places, the website will remain functional, but you might experience some minor issues like integrations with Twitter and Facebook not working. You can also choose to completely block cookies being placed on your computer.

The keyboard combination CTRL + SHIFT + DEL opens the cookie settings in almost every browser. If this does not work, you can look at the manual of your web browser: