How to Make Cannabis Tea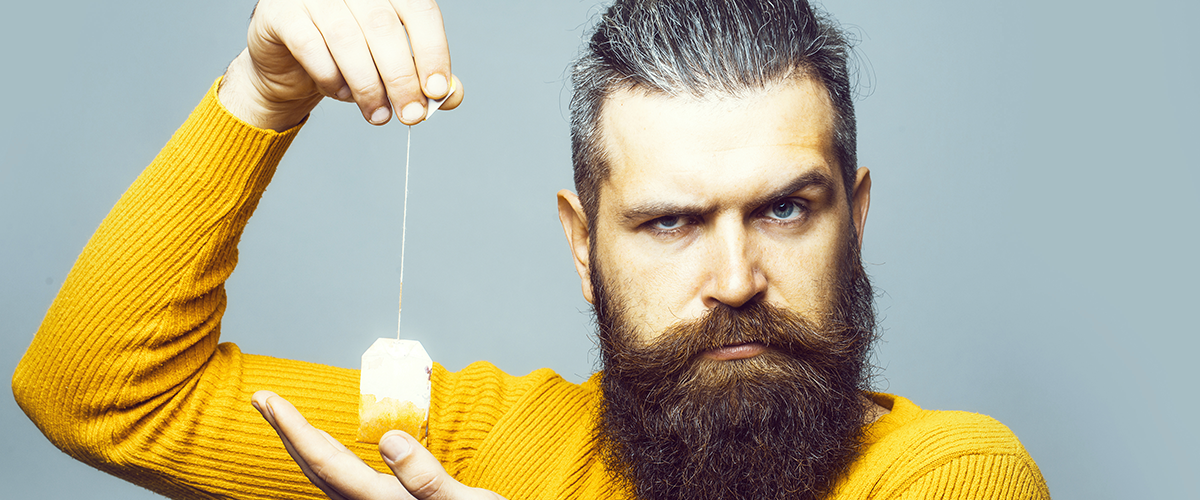 It's possible to make cannabis tea by directly infusing a chunk of bud in hot water using a tea ball or strainer. However, the resulting brew will be weak, and you'll be wasting your weed. Cannabis is fat-soluble and works much better when combined with some type of oil or fat.
Cannabinoids are lipids, and they don't mix well with water. You'll get a much stronger result by using techniques, such as:
Cooking cannabutter (cannabis-infused butter)
Infusing cannabis into whole or condensed milk.
Making an infusion using a carrier oil like coconut oil.
Using a tincture.
We'll show you how to make cannabis teas using each of these methods. But first, you'll need to prepare your cannabis.
Decarboxylation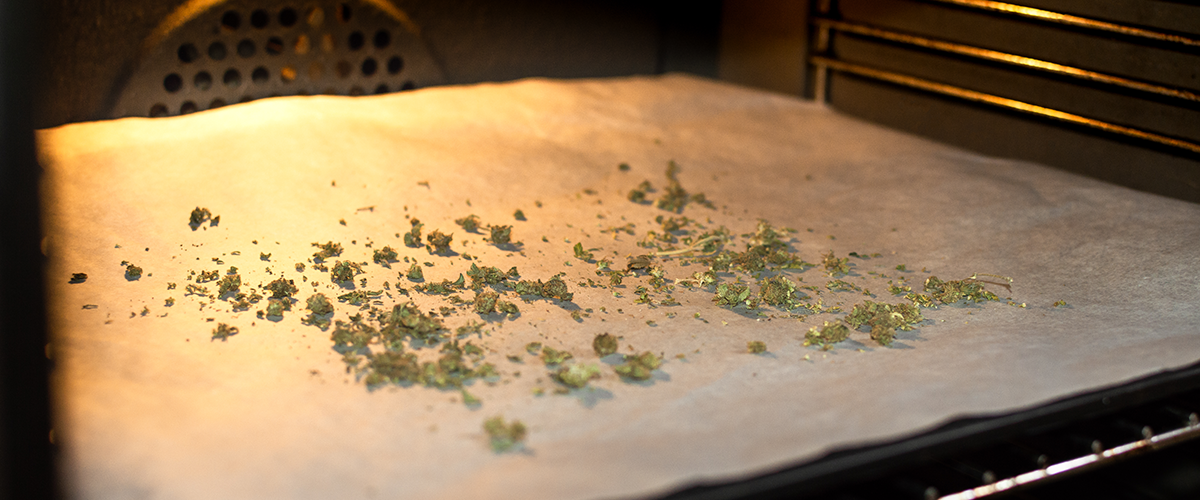 Before you make your tea, you need to activate the THC, CBD, and other cannabinoids through a process called decarboxylation. Decarboxylation, or decarbing, removes a carboxyl group from cannabinoid molecules, making them easier for the body to use. No need to be intimidated. Decarboxylation is a long name for a rather simple process.
Preheat your oven to 220 degrees F.
Break a few grams of cannabis into small chunks and spread them on a cookie sheet or glass baking dish.
Bake the cannabis for about 40 minutes.
Remove the tray from the oven and let the cannabis cool for 15 minutes.
That's it! You've just successfully decarbed your ganja. Now you're ready to use it to make some tasty cannabis tea.
Easy Wake and Bake CannaTea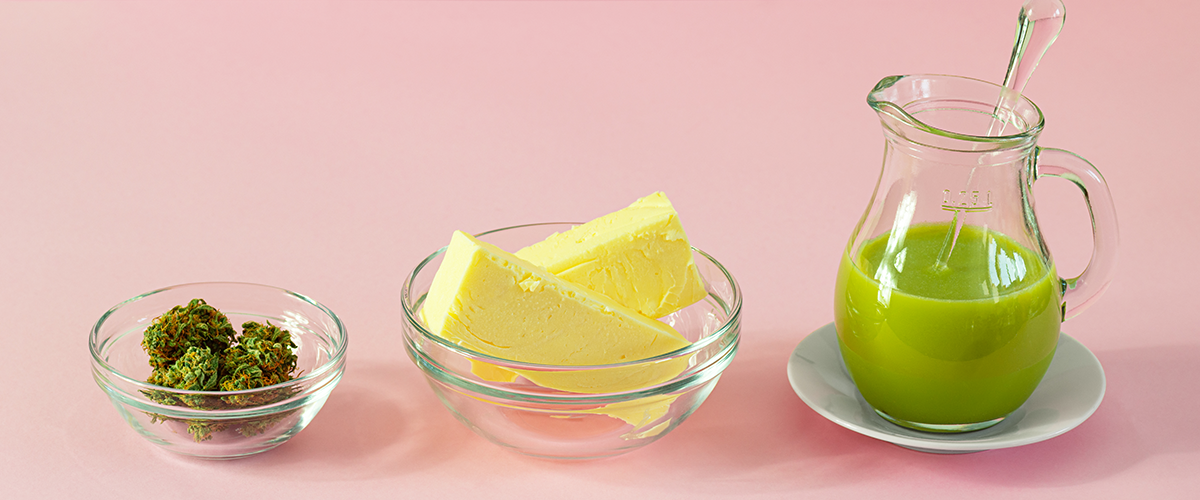 A pleasant alternative to coffee, this tea will help you put a little spring in your step in the morning. For best results, use a high-caffeine black tea like Earl Grey or English Breakfast paired with a Sativa-dominant cannabis strain.
If you already have cannabutter on hand, you can make a cup of Wake and Bake CannaTea in about 10 minutes. Just in case you don't, we'll show you how to make quick and easy cannabutter to liven up your morning brew.
Making Cannabutter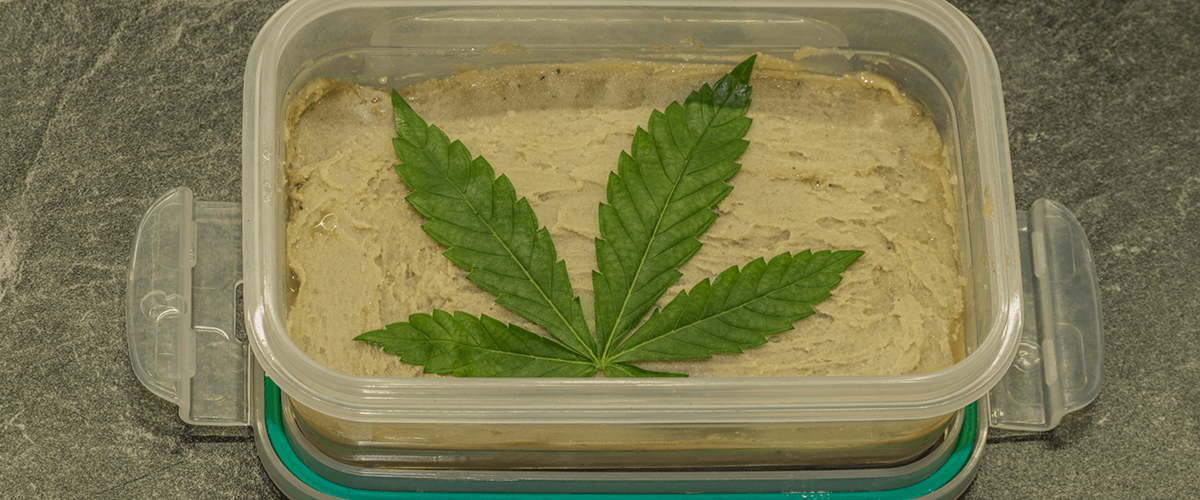 Cannabis-infused butter is an extremely useful ingredient in the arsenal of any stoner's kitchen.
Materials:
2 sticks of unsalted butter
⅛ ounce of cannabis flower or ½ ounce of leaves and trim
Heat/cold-proof glass jar or measuring cup
Cheesecloth and butcher's string
Procedure:
Heat the butter on the stovetop or crockpot on a low setting.
Once the butter is melted, carefully pour it into the glass container.
Store the butter in the refrigerator for 2 hours or until it becomes clarified. The butter will look visibly separated into two layers.
Meanwhile, wrap the cannabis in the cheesecloth and secure it with string.
Use a knife to pop the solid top layer out and place it in a pot on a low setting.
Place the cannabis into the melted butter and heat for several hours, stirring occasionally.
After about 6-12 hours, remove the cannabis package and store the melted butter in a glass jar in the refrigerator.
If you're in a hurry, you can brew your favorite cup of tea and steep the cannabis package for a few minutes for a starter cup.
Making Wake and Bake Cannatea
Ingredients:
1 teaspoon of Sativa-dominant cannabutter
1 individual bag of Earl Grey or English Breakfast tea
Milk and sugar (if desired)
Making the tea:
Boil water in a tea kettle or saucepan.
Place tea bag into a cup and pour in the boiling water.
Stir in one teaspoon of cannabutter.
When the cannabutter is more or less dissolved, add milk and sugar to taste.
Wait 40-90 minutes, and start your day smiling like Alice's Cheshire Cat.